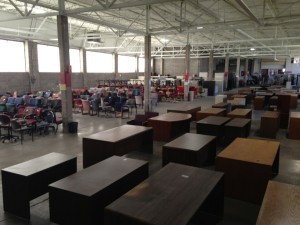 If you're looking for items to fill an entire office, or simply add one or two missing pieces, there's a great chance we have what you want at our Surplus Exchange KC Furniture Warehouse, and all at prices that can work within anyone's budget.
Please be advised that our inventory changes daily, so please call, follow us on Facebook, or beter yet, come to the warehouse in person and look around.
Looking for office supplies? Surplus Exchange has you covered.learn more…
Here is a list of common furniture we have to offer, many from top manufacturers like Herman Miller, Hon, Steelcase, and more:
Desks (single, L-Shape, U-Shape, Executive)
Credenzas
File Cabinets (2-drawer through 5-drawer, both vertical and lateral)
Chairs (task chairs of all shapes and sizes, side chairs)
Tables (conference tables, side tables, folding tables, break-room tables)
Bookshelves and other shelving
Storage cabinets
TV Stands
In addition, we also occasionally have the following items to offer (but please call first for availability):
White boards / Chalk boards
Chair Mats
Rolling carts
Hutches
Armoirs
Light tables and drafting tables
Lab stools
And much, much more!
NOTE: We're happy to hold your items for up to five (5) business days from the date of purchase. Whenever you're ready to pick up your furniture, our trained staff will do the heavy lifting for you.