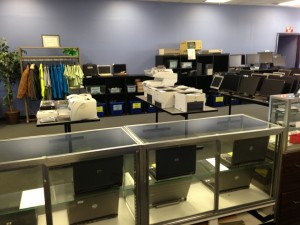 If you're searching for reliable refurbished computer, or simply a reliable place for repairs and upgrades, the KC Tech Shop at Surplus Exchange should be your first stop.
Not only are we a Microsoft Registered Refurbisher and e-Stewards Certified, we have experienced computer technicians to handle your computer needs, including a host of data services.
Broken computer got you down? KC Tech Shop can help.learn more…
While you can find a wide array of computer and electronic devices at our KC Tech Shop, we have the following items available most of the time:
Complete desktop PCs (Windows 7 installed)
Barebones desktop PCs (no operating system)
Complete laptops (Windows 7 installed)
Barebones laptops (no operating system)
Parts laptops
LCD Monitors
Server Computers
Printer / Scanner / Copiers
Cables
Parts
Much more!
If you're after something specific, give us a call, or stop in and take a look around.
Take a look at Surplus Exchange's current eBay listings!learn more…