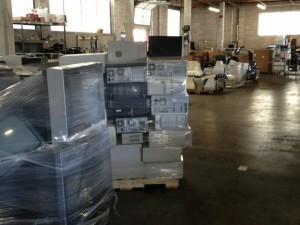 Surplus Exchange is Kansas City's premier electronics recycler for two important reasons.
First, we are e-Steward Certified, the top tier for e-waste recyclers. Not only were we the first in the city and region, we were one of the first five in the world. In fact, our Executive Director, Bob Akers, aided in the creation of the original standard. We continue to sit on the e-Stewards Leadership Council and help direct e-waste recycling policies worldwide.
Second, our services are unmatched. We offer free pickup for businesses. Our recycle center is open to the public five days a week. Plus, we hold more than a dozen e-waste recycling events in the greater Kansas City area every year. And recently, we offered our services for the first time at a city recycling facility: the Overland Park Recycle Center.
 For specific recycling basics, simply click on any of the links below.